Welcome
2012 TV & FILM Reel
---
It's been a busy 2013 so far (I know, it's almost over already), with super-stylish super-projects, more awesome stuff for Flying Carpets Games and Darkside, as well as some exciting new goings-on made probably blindingly obvious by the giant word above. YEAH!
The year started with a top-secret TV pilot for an enormous client (figuratively speaking), where I worked on designs for characters, building the bulk of the cast and all their morphs in 3d, and overseeing the other modellers and texture artists on a project of enormous scope. I worked with my ol' pal Andrew Eadington on building a really unique (and technically optimised) art style, building custom shaders and texture pipelines before going on to assist setting up the animation pipe between Softimage and Lightwave with the amazing Sandy Sutherland. Thennnnnn I went on to light, comp, and do crazy effects for over a hundred shots and 4 minutes worth of mad-cap animation. All of the work! Sadly, it's yet another project I've been really excited to be a part of that I probably can't show for years. Boo.
Whilst in the middle of recuperating/stuffing me gob with fish tacos and hot dogs for a couple of months in Chicago (best city of all times?), I stumbled into gainful employment with the fine people at the number one awesome democratising game engine for handsome winners – Unity! I'm ridiculously excited to be a part of such a fast-growing, forward-thinking company and I'm stoked to be able to focus properly on honing my game art skills from now on!
So, I'm no longer in ol' London town, after 7 long, strange, fun years – and, in the meantime,  I've spent the last two months enjoying a 5 to 6 hours a day commute whilst I consistently fail to find lodgings by Unity's seaside HQ. Brighton, why you so hard to live in?
Once I've finally got a place to live, though, it'll be a flurry of new things and updates on work I've done for The Girl and the Robot and some other 'legacy projects' I've worked on. YEAH!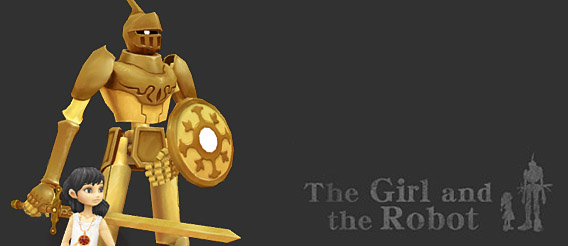 I've recently been working with the phenomenally lovely Flying Carpet Games, helping out on their beautiful indie platform-puzzler game, still in early development – 'The Girl and the Robot'. TechZwn has described it as a cross between Ico and Mario 64, which is an awesome comparison to have! So far I've been working on the first few characters, all based on stunning concepts by the Japanese illustrator Monaka, and you can see all the models built so far on the Game Art page here.
There's still a lot more to come on this project, so I'll eventually add a full breakdown on the Projects page and be adding to the gallery as the game progresses.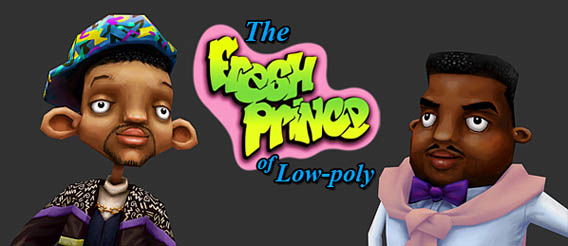 I recently had one of those delightful 'wordpress-update-that-breaks-half-the-website' episodes. But finally I have re-emerged, drenched in the blood of my fallen enemy, and normal service can now resume once more. I've got a lot of new things I'll be adding to the Game Art and Projects pages over the next few weeks but I'm also working on some very, very exciting things that I probably won't be able to show for another year or two!
I also had a rare couple of days to myself at the start of the year, so naturally, instead of enjoying some fresh air or venturing out into the real world to forage for seeds and berries, I sat in my dank pit and made a super low-poly Fresh Prince of Bel-Air homage! For something I did for fun and didn't spend a huge amount of time over (Carlton was done in under a day) I was bowled over by the response – selected by the moderators of an awesome new and cunningly named best-of-videogame art gallery at videogame-art.com and also selected for the Polycount Recap -  a huge and mindbending honour to be alongside so many of my favourite, crazily awesome artists!
You can check out Will and Carlton on the Game Art page!